If you're one of the few that follows along with my adventures via Facebook you might have recently been made aware that I was possibly going to move into a flat in the centre of Prague. I thought I would tell the full story…just in case it's a scam.
So I've been looking online to find a new place to live in Prague. Trying to rent a room or find a decent flat in the city is sometimes a long drawn out affair. This time is no different.
During a search for a room or flat you'll find an amazing array of offers from someone renting out their living room in a 2+kk (which means the living room and kitchen are the same room), to people packing up to four renters in a room and calling it a flat share.
This time around I found something strange to me. I found a place that was dirt cheap, immaculate and dead smack in the center of Prague. About a stone's throw from Namesti Republiky.
It's supposed to be a 2 bedroom flat and each room is 5000 Kc (about $280), utilities and internet included. I know…it sounds too good to be true, and it most probably is.
Here are some emails that have passed between myself and the person renting the flat:
Hello Julie,

I found your ad on Spolubydlici and it wasn't very specific as to what's available so I thought I would email and find out A) if it was available, B) what is available and C) what you were looking for. I've been traveling for the summer and just returned to Prague and am looking for a place to live in the city. I've been in the country 5 years now and am a writer and often work from home. But I love Prague, it's my home and I would really like to be centrally located.
Nice and proper like it should be. Here was the first response.
Am glad to send you this mail about my flat and it is two bedroom flat and it will be share by two person, my flat is located at the city center of prague on 11000, Czech Republic, Prague, Kralodvorska 4 and the flat is well furnished with modern amenities such as internet,washing machine,gas cooker,refrigerator, phone,and cable etc and a room in my flat is 5000czk and the refundable security depositis 6000czk and  it available now,and i want to rent out this flat because i got a job with construction company in London and i will staying in London so i want someone that will take good care of my flat as it sown,hope to read from you soon.
OK, a little strange, first off she gave the whole address but I already stated Prague is my home…so I shouldn't really need the postal code, etc…it's as if it were copied straight from somewhere else. Secondly, the English is not very clear. It's not a matter of a Czech person's English because the mistakes are not common mistakes here (3 years of English teaching experience there).
Now on to the next round of emails:
I will be in Prague on Friday/Saturday if that would be a good time to meet with you. I'm older, 38 next week (ugh!), so I'm not a party animal, uni student or  anything of the sort and would be happy to live in the center AND take good care of your flat for you while you're away. I'm a writer and often work from home but also love the cafe culture and being in the center would be perfection! I was traveling for the summer and spent 7 weeks in the Balkans and have now returned home. I've been living in the country for 5 years and Prague is 100% my home and I wish to stay as long as I can.

I've got one appointment Friday at 7pm to see a flat but any other time on Friday would be acceptable for me. I'm trying to find a place as soon as I can since I am staying with friends in Liberec at the moment.
Nothing extraordinary on my part, however the reply was a little strange:
Thanks for your mail and am very glad to read from you and also you are very polite but i can only send you the picture of the flat for you to make your mind may be you like it or not because i cant afford to waste my money and time any longer,so please understand my situation…thanks.
Huh, so I should accept the flat without seeing it? That's odd. Sure, I'm still interested at this point so I reply with:
Very well, if you could send me the photo and perhap how large the rooms are? I also have some friends who are looking for a place to live and that means I could fill both bedrooms if the flat is reasonably sized. I'm almost convinced I would like very much to live there based on the location, price and your emails so far. I'm very responsible and own 3 of my own companies which is how I support myself. I'm clean, energy conscious and generally laid back and easy going. all of this I think makes me a great candidate to live in and take care of your place for you.I am 100% certain I will be in Praha Friday and Saturday, if you like, we might meet and perhaps make some arrangements if you find me acceptable as a resident in the flat. I would even be willing to give you some of the money this weekend if everything works out to secure the room for myself.
There was no reply to that one, so I sent another:
I'm guessing you have found someone to live in your flat for you now as I haven't heard from you and haven't received an email with the photo of the flat. If not then let me know as I still have not found a place to live yet in Praha and would like to soon.
Then things got even stranger:
I do send you the picture of my flat , i guess you find some else that why you never reply back. i have someone who is interested in it and ready to move in soon, but for this little error for you not to get my mail as you said . am going to tell the contact to hold on and get to hear back from you as you want it to ,.so i will give you a chance of 3 days. before i will get back to the person if you are not ok with my flat
Annette
Whoa…Annette? I've been emailing
Julie Galhaut
<jgalhaut@yahoo.com>, where does this Annette person come in? Here are the photos, and that's when it starts to smell fishy: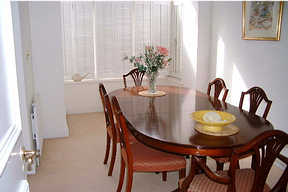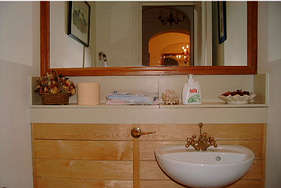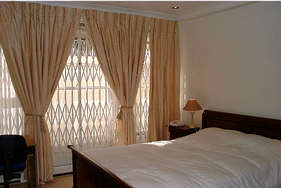 I say yes it looks great I would be interested and then I get this:
like you know am in Bondon right now and i can just come to Prague without all things has been arrange between us and all agreement has been meet. you will have to show sign of serious if you really like it and get it secure it then i can come after all has been done. i will need your details such as
1 your full name
2 your present address
3 your moving date
4 your move out date
this are the details i will send to the lawyer to prepare the lease contract form which you will sign your part and i will sign along it it there is payment details in it
Hope to hear from you soon
The contract, which I eventually get, states that I should wire the money via Western Union to:
Payment through western union money transfer
Name; ANNETTE KATE LORIGAN Address:13 RICHMOND ROAD City:MERTON Zip code:SW20 0PF Country:LONDON
My geography of London isn't all that good so I looked it up and it looks mostly legit…but still. I asked what would happen with the fees as it would be about 900Kc to send the money and another 500Kc each month after that…the reply I got made no sense:
No every month you will pay to my bank account there in Prague. once i arrive now and i will give you all information you will need to make use in paying me monthly so no charges. But right now western union will charge as you are making use of there service now as is what i want. and the extra charges i will refund that back to you . so let me know how much it cost you i will ask you to deduct it from next month payment. yes that is the contract form . waiting to hear from you with your sign part and the payment deposit slip. i will sign my part once i get it from you and as well the lawyer will stamp and seal it up. and i will issue a your payment receipt and scan it to you too so you will print them all out and bring them along so am waiting to hear from you so i can arrive latest by Wednesday
WHAT? Why don't I just put the first rent and deposit in the local account as well? That's stupid. Not to mention the lease and my previous email said within two weeks…not 'by Wednesday.' I've sent one final email to gain further clarification, but I'm certain it's a scam and doing further research online.
Gumtree has a whole forum thread dedicated to it.
There are even posts on Answerbook, Yahoo! answers and more. So, it seems the flat is a bust which of course is generally what happens when things are too good to be true no? So no flat in Prague at present. I've decided I might like to stay in Liberec indefinitely and so I've begun looking for a flat here in the city. It's cheaper, not so distant from Prague and isn't a bad city.
Word of warning: Be sure to look further into things when they appear to be too good to be true or when wiring money to remote locations, even if they seem to be legit. In fact, simply don't do it. I'm lucky, I didn't lose any money. But many others are not so lucky…
5 Comments
Comments RSS TrackBack Identifier URI
Leave a comment